Hong Kong agencies win big at the GovMedia Awards
Their projects support Hong Kong enterprises and Hong Kong Government Departments to improve competitiveness and efficiency through the adoption of digitalisation.
Hong Kong agencies were recognised at the recent GovMedia Awards for their various initiatives and projects that are centred on empowering enterprises in Hong Kong through technology adoption. These organisations include the Hong Kong Productivity Council (HKPC) and the Civil Engineering and Development Department of the Government of the Hong Kong Special Administrative Region (CEDD).
HKPC developed Biz Expands Easy (BEE), a digital platform to assist Hong Kong corporates, particularly small and medium-sized enterprises, in accessing Government funding resources to expand their businesses globally.
This comes amidst a customer-focused group that revealed the need to enhance the accessibility of information on Government funding schemes, with most respondents expressing the importance of digital transformation for obtaining information on Government funding schemes and optimising application procedures so as to improve the service level – some of the key pain points of funding applicants.
BEE consolidates different funding schemes from the Government and provides SMEs with a comprehensive suite of tools and resources to identify and match the most suitable Government funding schemes. In addition to the website portal, a mobile app is also available for enterprises to check and manage their funding application status.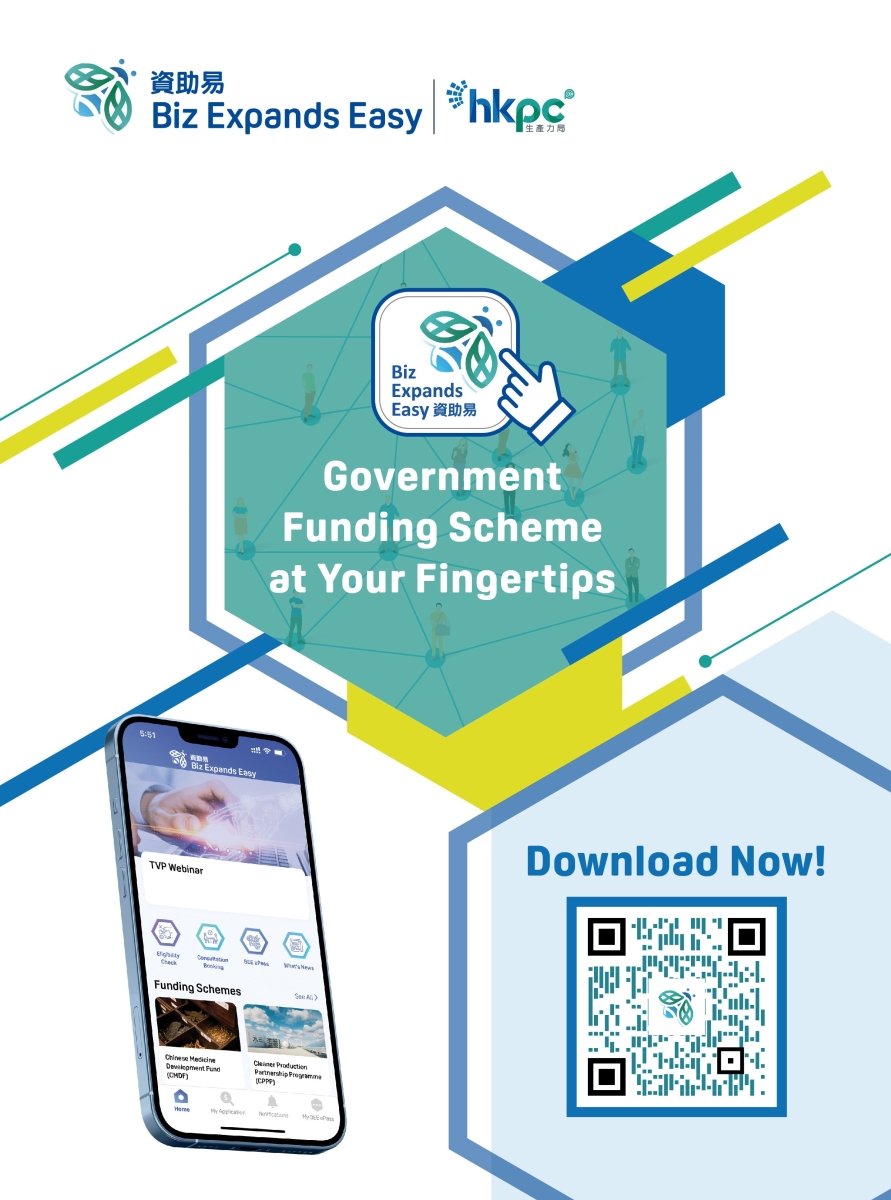 ​
The portal consolidates funding schemes-related information with application eligibility kiosks,
where applicants can self-check eligibility based on their business needs. Since its launch in September 2022, the portal has received over 300,000 page views.
HKPC took home the Regional Digital Initiative of the Year - Hong Kong category win.
In cooperation with CEDD, HKPC also developed the 3S Tunnel Defect Inspector, Hong Kong's first tunnel inspection drone with onboard AI technology using edge computing devices for efficient and automatic real-time tunnel defect inspection.
Given the minute size of concrete cracks in tunnel linings, which are challenging to detect, this innovative system was designed to cater to all the needs of tunnel lining inspections. To ensure precise and accurate detection, state-of-the-art AI, deep learning, and continuous learning capabilities were integrated for real-time identification and analysis of captured defect images, significantly improving detection accuracy and efficiency.
The 3S Tunnel Defect Inspector adopts a QR code and AprilTag for positioning to detect defects continuously and stably on the surface of the tunnel under different locations and conditions without GPS and under low-light conditions.
"The invention is a synergy of AI and robotics in tunnel construction environments, which has tremendous potential that extends beyond construction to encompass close-range inspection and maintenance in existing tunnels as well as large-scale infrastructures, such as building facades, bridges, pylons, and wind turbines," the HKPC said.
The invention, which received the Regional Engineering Initiative of the Year - Hong Kong award, has also won other multiple international awards.
GovMedia Awards recognise the most outstanding Government projects and initiatives in the Asia Pacific region and is open to both Government departments or organisations, and companies that supply services or solutions to Government projects.
The GovMedia Awards is presented by GovMedia Magazine. To view the full list of winners, click here. If you want to join the 2024 awards programme and be recognised for your organisation's government projects and initiatives, please contact Jane Patiag at [email protected].