Image source: Office the Presidential Adviser on Peace, Reconciliation and Unity.
Political risks seen easing in the Philippines: Fitch
Downside risks flagged as the Bangsamoro peace process remains fragile.
The political environment in the Philippines has slightly improved as the government made great strides in addressing militant violence in the Bangsamoro region in Mindanao, according to Fitch Solutions.
Fitch raised its short-term political risk index score for the Southeast Asian nation to 68.1 from 66.5 previously, signalling easing political risks due to improving national security outlook.
Ongoing efforts to establish an autonomous regional Muslim government in Bangsamoro over the next two years is expected to bring about more stability in the country, despite having pockets of violence in the region.
"The current administration's commitment to the Bangsamoro peace process bodes well for the overall stability of the region," it said in a research note. "We expect the government to continue to implement its wider reform agenda, as successes in tackling domestic security issues will bode well for government stability.
The government is scheduled to grant full autonomy to Bangsamoro by 2025 under the Comprehensive Agreement on Bangsamoro (CAB), in exchange of Islamist separatists decommissioning their weapons as part of the peace process signed in 2014.
Earlier this month, government authorities and the Moro Islamic Liberation Front reaffirmed their commitment to the peace process and agreed to fast-track the implementation of CAB during their first meeting under the current administration.
Fitch said the establishment of an autonomous region weakens radical groups like the Abu Sayyaf Group and the Bangsamoro Islamic Freedom Fighters who were responsible for the string of terrorist attacks, and could gradually end decades-long unrest in the region.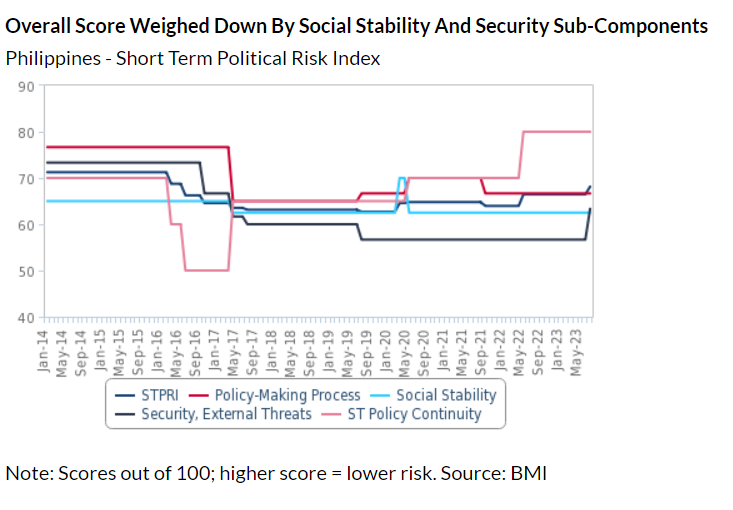 Despite improvements in the domestic scene, the Philippines still scored poorly in security and external threat (63.3) due to the government's foreign policy shift in tackling the territorial disputes in the South China Sea.
Fitch cautioned that downside risks remain given the fragile state of the peace between the state and the rebels, and any form of mishandling could result in violence erupting.
The government already had issues in implementing the CAB, including the delayed socioeconomic benefits for some of the ex-combatants who already surrendered their weapons.